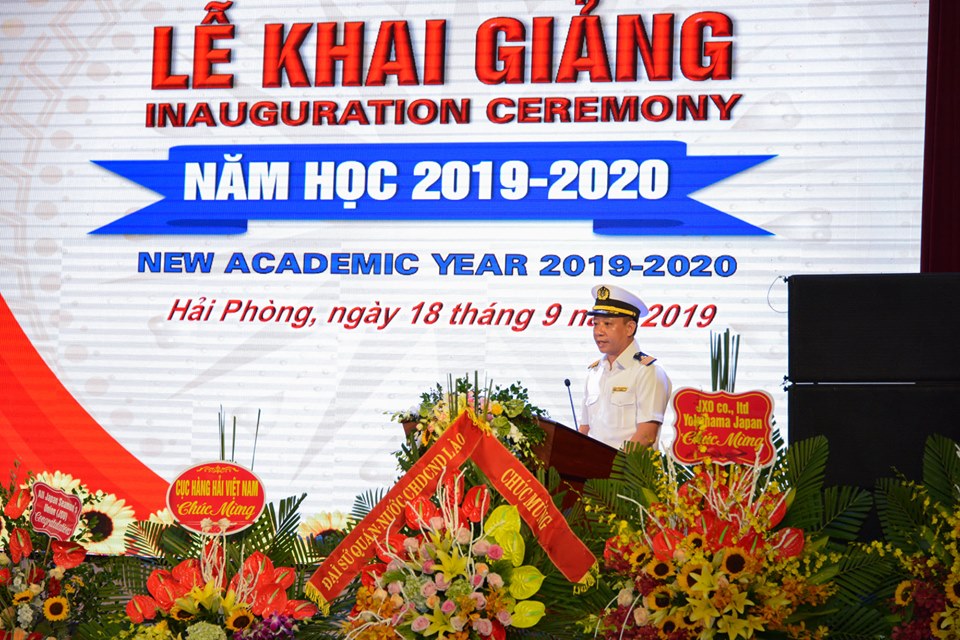 In the morning 18th Sep, 2019, in a jubilant atmosphere that the whole country's 74-year commemoration of the August Revolution and 50-year implementation of the Ho Chi Minh President's Testament, Vietnam Maritime University solemnly held the Inauguration ceremony of the new academic year 2019-2020.
Attending the ceremony were Mr. Le Anh Tuan - Deputy Minister of Ministry of Transport; Deputy Chairman of People's Council Nguyen Xuan Binh; the delegates representing for the leadership and staff of departments in the transportation sector, departments of HaiPhong city, partner universities in Haiphong City and leaders of corporations, domestic and foreign companies, the long-term partners of the University.
From VMU side were Pham Xuan Duong, Assoc.Prof., Dr.– Deputy Secretary of Communist Party Committee, President and staffs in Party Committee, Administrator, Labor Union, Youth Communist Union, Leader of departments, lecturers, students, especially representatives of 3,425 freshmen of 60th batch.
In opening speech, the Principal announced generally the achievements, results which University's personnel attained in the last school year and then created targets for 60th batch. In the last academic year 2018-2019, all of lecturers and students have been tirelessly striving to reach goals in all the fields of teaching, studying, scientific researching, international cooperation, infrastructure building, improving the living conditions of lecturers and staffs, so as to contribute to the development of the country, Ministry of Transport and Haiphong City.
At the present, Vietnam Maritime University owns about 15,000 diversified students, nearly 1,000 administrative staffs and teachers, including 48 Prof./Assoc. Prof., 151 PhD. & DSc., 621 MSc. and hundreds of first classed captains, chief engineers and maritime officers and seafarers.
Academic year of 2018-2019 is the first year the university has applied the teaching curriculums approaching to CDIO framework. This marks a breakthrough of VMU in offering education fulfilling international standard, supplying labor force for the Strategy on the sustainable development of Vietnam's Sea-ward Economy by 2030, with a vision toward 2045, actively integrating globally. The University has also launched a number of itself development strategies to 2025 with a vision toward 2030, including Education and Training Development Strategy, Science and Technology Development Strategy, International Integration Strategy, etc. The honor achievements of previous academic year can be listed as follows:
75 teams got the titles of "Excellent Labor Collective"; 33 teams got the titles of "Advanced Labor Collective"; 130 individuals got the titles of "Grassroots-level Emulation Fighter "; 647 individuals got the titles of "Labor Advanced"; 176 students got the titles of "Outstanding student";
The enrolment is very successful and exceeding to the set target. Many of students are from the USA, France, South Korea, South Africa, Mozambique, Nigeria, Myanmar, Laos, Cambodia, North Korea, etc. coming to VMU for either full-time study or academic exchange programs;
The University educated 2,626 Bachelors/Engineers, 03 PhD., 353 MSc., 9,000 professionally upgrading maritime trainees and launched 2 new undergraduate majors. Currently, the university is educating 8 doctorate majors, 13 majors at master level, 44 undergraduate majors, 14 majors at college level, 28 majors at vocational level, etc.. All of educational programs have been revised and built towards effectiveness, practice, modernization and advance. The quality of graduates meets the demand of society and international integration. With the new method of studying, the students study more actively, easily integrating with the global working environment once graduation;
Besides, the quality of university's education and training is also reflected in the results of its teams of Algebra, Analytics, Material Strength, Fluid Mechanics, IT, English, participating in the National Olympic Competition and high prizes awarded. Specially, two teams of students won the second prize in the National Student Competition on Science and Technology and the University's students achieved the excellent prize in the Vietnam's Got Talent on Logistics 2018.
The University's scientists have made 156 scientific research projects at the university level, 15 ministry-level research projects and 02 state-level projects. Many scientific articles have been published on the world's prestigious special magazines, consisting of 94 ISI/Scopus articles. There are a significant number of scientists awarded by the Vietnam General Confederation of Labor and Vietnam Union of Science and Technology Associations in Haiphong City, etc.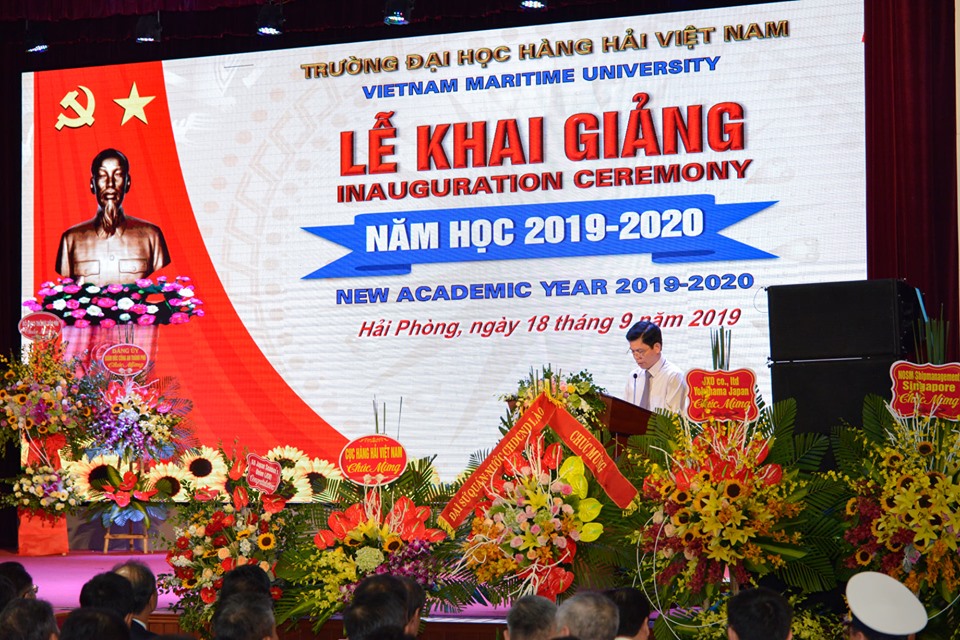 Spoke at the ceremony, Mr. Le Anh Tuan, Deputy Minister of Ministry of Transport praised and highly appreciated the achievements in teaching, learning and scientific research that generation of university officials, lecturers and students have achieved in recent years. He wished that VMU step along in renovating teaching process and develop the creation of staffs in working. Stress on science researching, applying of technology in manufacturing, developing the project of socializing education, become independent in human resource, finance with clearly plans of development.
Opening Ceremony for 2019- 2020 school year ended in the delighting happiness of students and teachers of VMU. We wished for a new school year with a new success, for students with success to repay their parents, devoted to our country.