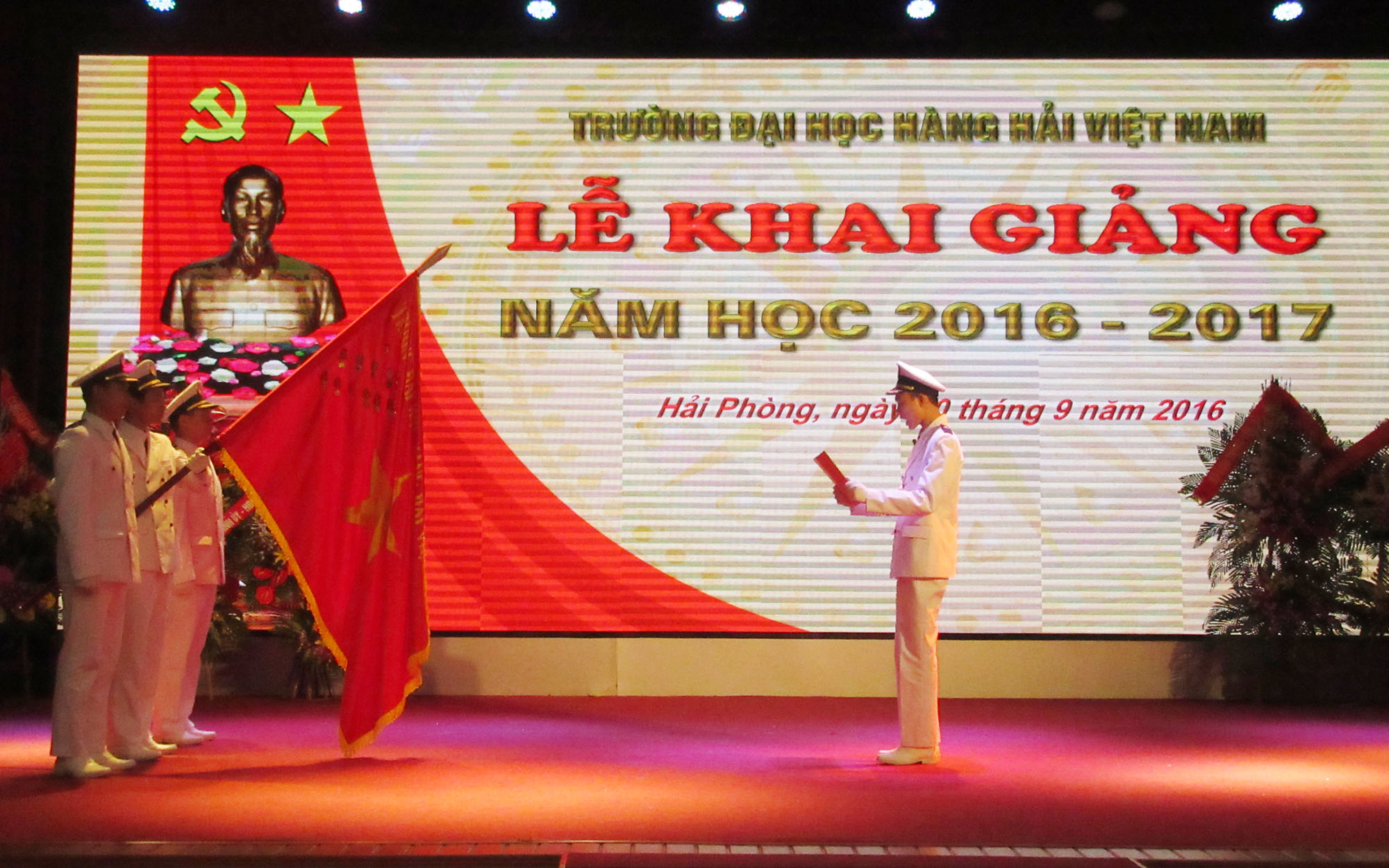 On September 10, 2016 Vietnam Maritime University (VMU) held opening ceremony to start a school year
Attending the ceremony were Mr. Bui Van Cuong – Member of the Central Committee of the CPV, President of Vietnam General Confederation of Labour, Mr. Nguyen Van Cong - Member of City Communist Party Committee, Deputy Minister of Ministry of Transport; Mrs. Nguyen Thi Nghia - Permanent Deputy Secretary of the City Communist Party Committee, Head of the Congress Delegation of Haiphong City; the delegates representing for the leadership and staff of departments in the transportation sector, departments of HaiPhong city, partner universities in Haiphong City, the Ambassadors of the Kingdom of Belgium, the Republic of Panama, Republic of Mozambique in Vietnam and leaders of corporations, domestic and foreign companies, the long-term partners of the University.
From VMU side were Mr. Luong Cong Nho – People's Teacher, Associate Professor, Dr., Ch/E – Secretary of Communist Party Committee, Principal of University and staffs in Party Committee, Administrator, Labor Union, Youth Communist Union, Leader of departments representatives for employees welcomed 3.000 new students of 57th course, who representatives for over 20.000 students of University.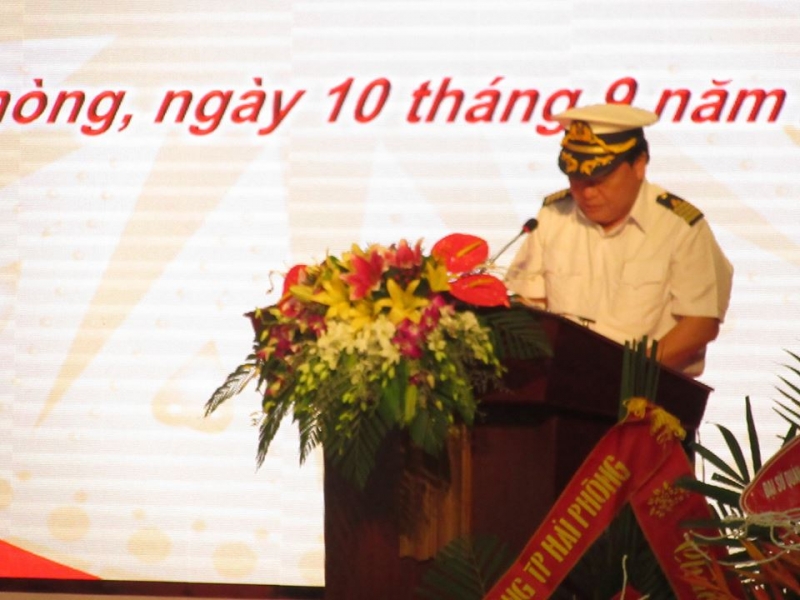 In opening speech, the Principale announced generally the achievements, results which University's personnels attained in the last school year and then created targets for 57th course students. To sum up the results of 2015 – 2016 School Year, there are evaluation from University Council: 45 Best of LabourGroups, 75 Advancing LabourGroups, 145 Best Competitive Personnels, 691 Advanced Labours, 200 Best Students. In term of academic, there are 5 Doctors, 2.652 bachelors and engineers, 450 Masters, 330 Captains and Chief Engineers, 357 Managing Officers, 422 Operative Officers, 6.556 maritime professional students, opened 4 additional University Academic Majors. Currently, the University is taking 74 Academic Majors which consist of 8 Majors at doctorate level, 11 Majors at master level, 35 undergraduate majors, 8 college majors, 12 vocational training major and some short-term courses.
Recently, VMU has got 18.000 students, 982 lecturers and administrative staffs, in which there are 38 Professors and Deputy Professors, 110 Doctors and Science Doctors,  566 Masters and hundreds of Captions, Chief Engineers and Maritime Officers with international standard. VMU's aim is always feature the development of staffs, which is vital for strategy of developing and integrating, as well as renovating the recruitment methods. Bring 300 lecturers to study abroad and improve foreign language skill is one of those aims. In the last school year, the University successfully attained the role of the host of 10th National Exam Cluster. The education quality is shown through results of Olympics Teams with 18 medals. The scientist of University did 186 University researchs, 7 Department researchs and 2 Government researchs. Several arcticles of these scientist are published on foreign science magazines. Sports and performances activities joined in city's and national events, especially are contests that celebrate 70 years of Transportation Affairs.
Also, our University took part on social activities such as: Donating for bulding house for poor people in Haiphong's suburban area, donating for funds such as "Meaningful Net", "Fund for Truong Sa (Spratly Islands)", "For Vietnames Children", "Support the Victim of Dioxin Toxic" with delegates visit and support for people in Truong Sa (Spratly Islands) and other charity groups. We are the lead in blood donating in Haiphong city, too.
Along with these achievements, Minister of Ministry of Transport decided to remunerate 4 groups and 28 personnels for excellent progress of working and teaching. Beside of that, 12 valedictorians are also awarded by the University.
Spoke at the ceremony, Mr. Nguyen Van Cong, Deputy Minister of Ministry of Transport celebrated the University for those achievements. Wished that VMU step along in renovating teaching process and develop the creation of staffs in working. Stress on science researching, applying of technology in manufacturing, developing the project of socializing education, become independent in human resource, finance with clearly plans of development.
Opening Ceremony for 2016- 2017 school year ended in the delighting happiness of students and teachers of VMU. We wish for a new school year with a new success, for students with success to repay their parents, devoted to our country.