MARE organized a kick-off meeting marked as one of the beginning activities of the Marine Coastal and Delta Sustainability for Southeast Asia (MARE) project. This meeting with involvement of 11 institutional members took place from 18 to 20 February, 2020 in the Center for Multimedia in Higher Education (ZMML), University of Bremen, Germany. The specific objectives of the meeting are as follows:
Introduce the main coordinator and partner institutions
Introduce responsibilities, work and research areas of partners
Discuss key contents, timetables, working package, project planning etc.
Define rules and guidelines for cooperation
Issues related to finance and administration
Introduce about E-learning, Quality Control Matrix and Training
Present programs and activities of first year (2020)
Direction to the next stage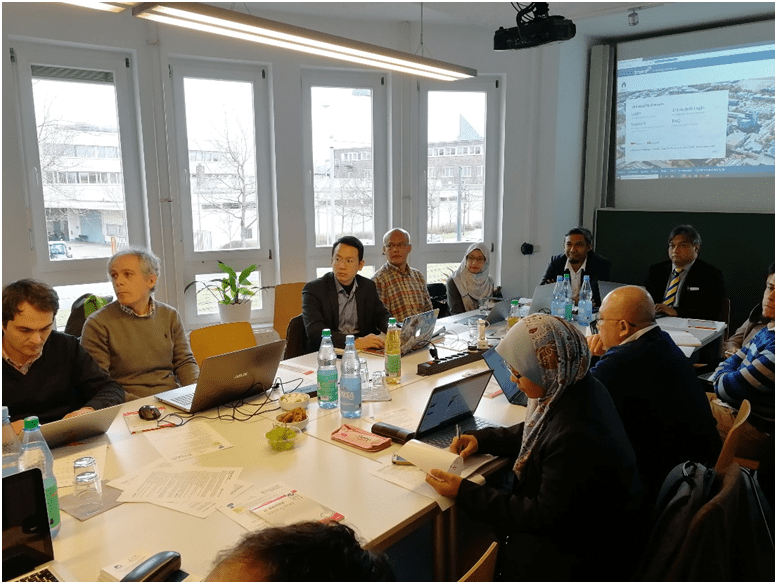 As the partner institution, Vietnam Maritime University dispatched two representatives participating in this event, Mr. Tran The Nam – Deputy Manager of International Relations Department and Ms. Dinh Thi Thuy Hang – Lecturers of Environmental Engineering Institute. Both of them shared ideas in education & training, exchanged precious information, significantly contributed to finalize goals, programs, time schedules, and activities of the member universities in the MARE project. The first meeting was effective to build the trust, unity and consensus among partners and to promote mutual understanding. Detailed working schedule was as follows:
17th February 2020: Participant's arrival to Bremen.
18th February 2020:
+ The opening session with the Project Coordinator, expanding potential cooperation opportunities inside and outside the scope of the MARE project;
+ Presentations of the project overview, main purpose, timeline and responsibilities of the parties in the project;
+  Questions related to specific capacity of participants in MARE;
+ Discussions on training and learning programs, online services and e-learning development, organizational management, quality control;
+  Management and popularization of the activities in the MARE project.
19th February 2020:
+ Discussions on ways to operate the project, financial and administrative phenomena;
+ Each of the member Institutions presents preliminary guidelines on the fields that they undertake, namely: developing and updating learning materials, building time frames and capacity for doctoral, master, bachelor training , cooperating in research;
+ Seminars for Malaysia and Vietnam, especially the seminar is scheduled to be held at Vietnam Maritime University, in April 2020;
+ Planning on promoting MARE project through mass media, initially opening websites to increase connectivity;
+ Upcoming tasks, dates and venue for the next meetings.
20th February 2020:
+ Individual partner consultations;
+ Visit and introduction of E-learning Service Units, including test center and e-assessment, media services and film studio.
| | |
| --- | --- |
| | |