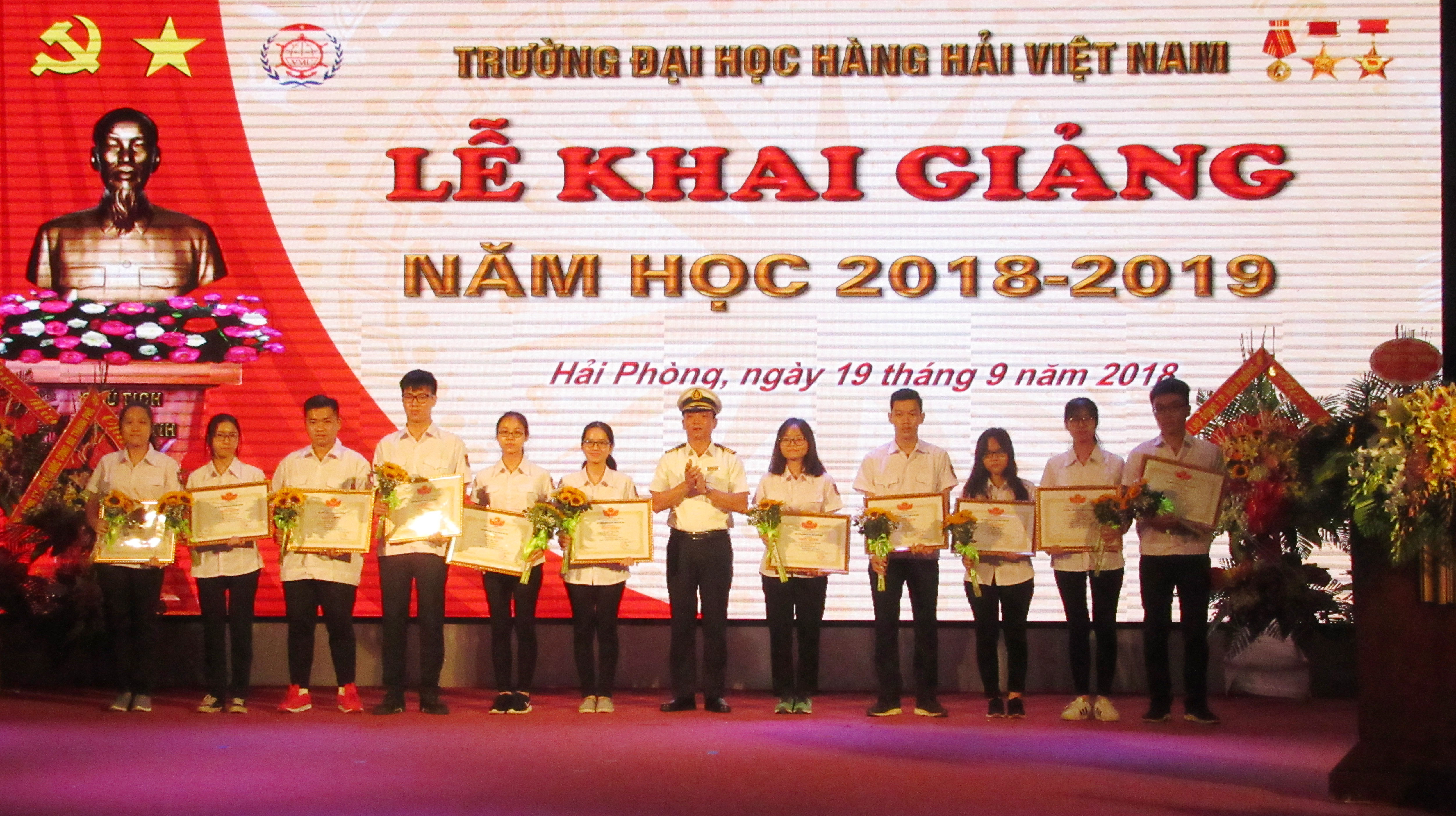 On September 19, 2018 Vietnam Maritime University solemnly held the Inauguration ceremony of the new academic year 2018-2019.
Attending the ceremony were Mr. Nguyen Van Cong- Deputy Minister of Ministry of Transport; Deputy Chairman of People's Council Nguyen Dinh Bich and Vice Chairman of Haiphong People's Committee Le Khac Nam; the delegates representing for the leadership and staff of departments in the transportation sector, departments of HaiPhong city, partner universities in Haiphong City and leaders of corporations, domestic and foreign companies, the long-term partners of the University.
From VMU side were Mr. Luong Cong Nho – People's Teacher, Professor, Dr., Ch/E – Secretary of Communist Party Committee, Principal of University and staffs in Party Committee, Administrator, Labor Union, Youth Communist Union, Leader of departments representatives for employees welcomed 3.266 new students of 59th course who representatives for over 16.000 students of University.
In opening speech, the Principal announced generally the achievements, results which University's personnel attained in the last school year and then created targets for 59th course students. The university has just been classified into Top 15 in National University Education System. Today, we can proudly assert to our student, employers and society the education quality ranked in national top list and recognized internationally. This fact affirms the appropriateness of our radical and comprehensive renovation in education over the recent years. In the last academic year, the university have also accomplished and approved the teaching curriculums approaching to CDIO framework that will be applied in this year. This marks a breakthrough of VMU in offering education fulfilling international standard, supplying labor force globally.
At the present, Vietnam Maritime University owns over 15,000 diversified students, 982 administrative staffs and teachers, including 48 Prof./Assoc.Prof., 138 PhD.& DSc., 608 MSc. and hundreds of first classed captains, chief engineers and maritime officers and seafarers. University's labs and classrooms have been renovated and updated at international standards which effectively facilitate scientists and students to conduct science researches and apply advanced technologies in reality. This has enabled our researchers to approach to the most advanced knowledge in region and the world. The University has continuously promoted scientific researches in order to improve education quality and self-create techniques, contributing to efficient accomplishment of national sea strategies.
Opening Ceremony for 2018- 2019 school year ended in the delighting happiness of students and teachers of VMU. We wished for a new school year with a new success, for students with success to repay their parents, devoted to our country.