To achieve its mission in education, research, and community services, Vietnam Maritime University (VMU) has been striving to improve and enhance the quality of activities to meet regional and international quality standards in higher education. Among these efforts are the two quality assessments for 8 study programs in 2021 (including 04 training programs according to the standards of the Ministry of Education and Training, 04 training programs according to AUN-QA international standards)
The first program assessment conducted in June 2021 in VMU includes 4 undergraduate study programs, namely Information Technology, Business Administration, Industrial Automation Engineering, and Environmental Engineering. The second AUN-QA program assessment will be implemented in VMU in August 2021, including bachelor of navigation, bachelor of marine engineering, bachelor of global studies and maritime affairs, bachelor of international business and logistics.
The implementation of online interviews and facility visits was coordinated and supported by the University, the procedures are closely guided by the AUN-QA procedures to authenticate assessment activities with reality and objectivity and ensure safety in preventing Covid-19.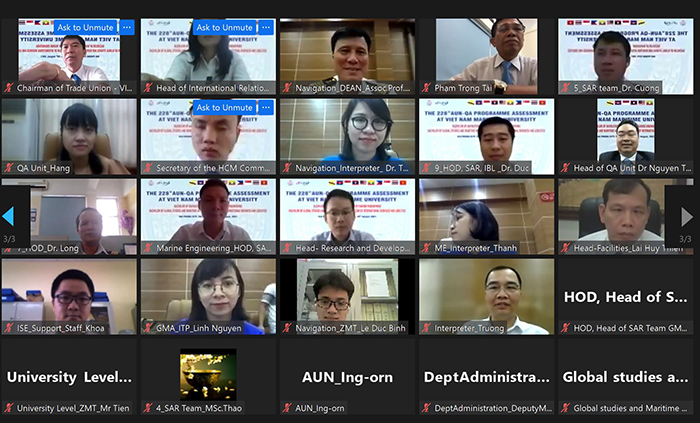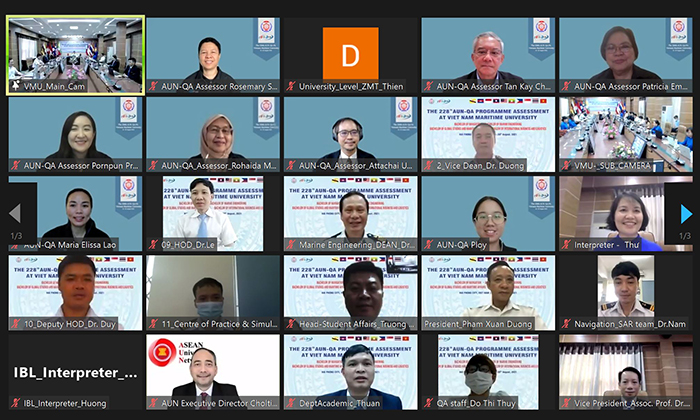 Online photos of the opening session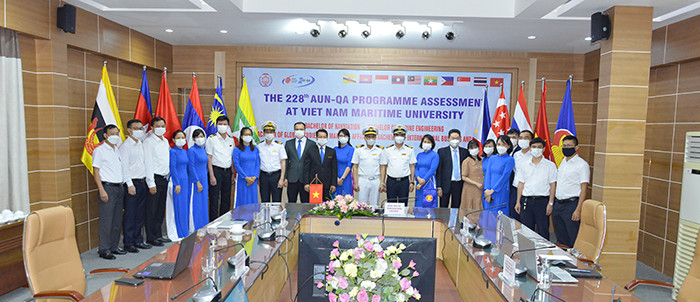 The opening session of the 228th AUN-QA program assessment at Vietnam Maritime University.
According to the reports from the AUN Secretariat, all the 4 undergraduate study programs of VMU have been judged to be "Adequate as Expected". It is noted that quite a few areas of activities are judged to be "Better Than Adequate".
As an AUN member since July 23rd, 2015, VMU has actively realized the regional standards into the academic contributions and never stopped learning from new good practices. The success of this program assessment has spread to other study programs which are internationally assessed and recognized in the near future.
According to AUN-QA assessment expert: The programs have conducted joint research projects with marine engineering companies on the exploration of new equipment. Such research activities help academic staff gain insight into the new methodological approach and innovation for a professional setting academic staff and technicians are allowed to take 8-12 months leave for working as a seafarer or marine engineer for several international companies such as Nippon, and NIPPON STEEL. This scheme helps increase their professional experiences for curriculum development and student support at the laboratories. The programs are well-known for its long tradition of providing highly qualified marine engineers in the country. The program specification is comprehensive containing crucial information for potential students such as career opportunities, assessments and curriculum map. The curriculum is periodically evaluated and revised considering the inputs of stakeholders.