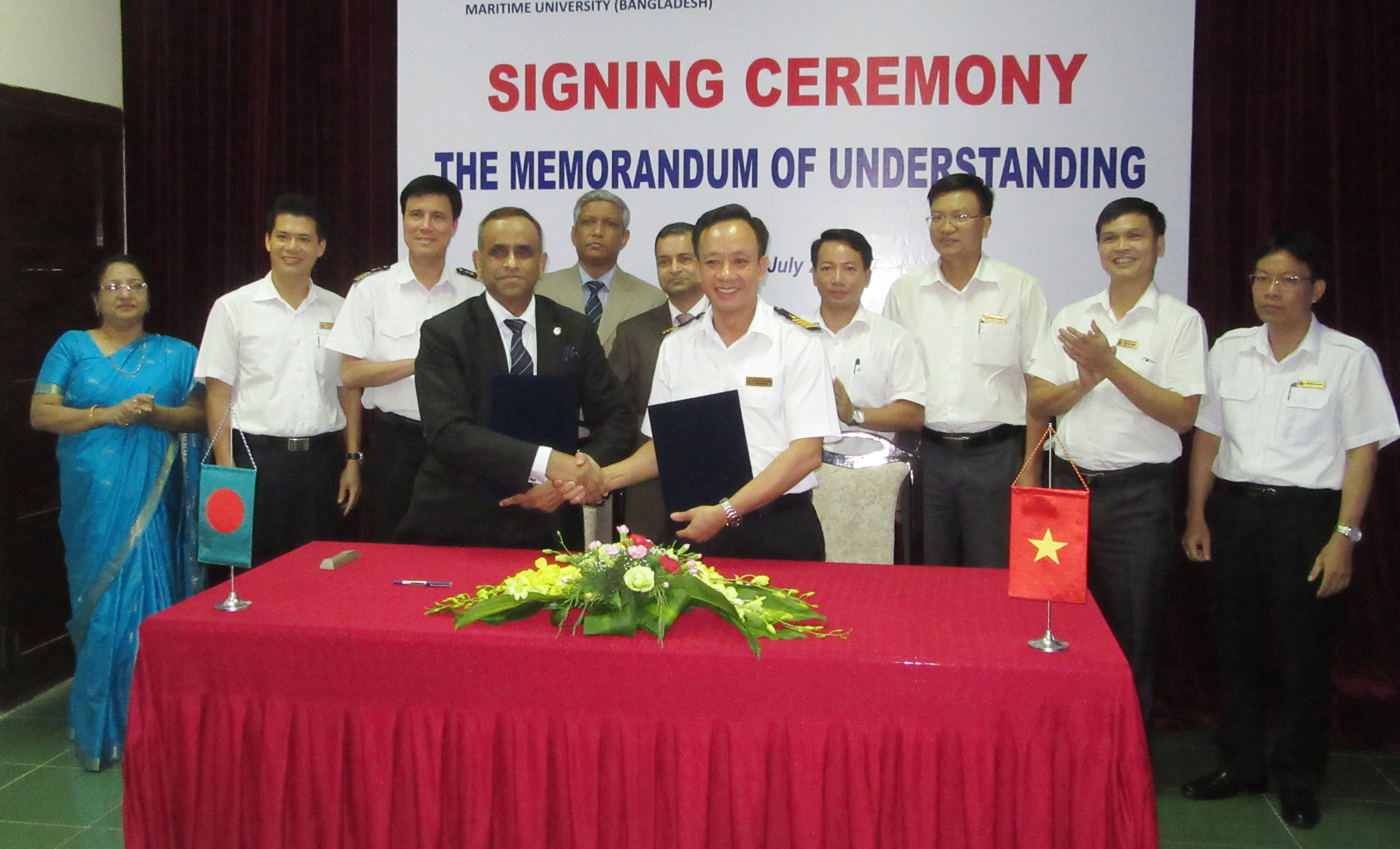 July 27, 2017, the ceremony of signing cooperation agreement between Vietnam Maritime University and Bangabandhu Sheikh Mujibur Rahman Maritime University, Bangladesh took place in the Council Meeting Room, Hall A1, VMU.
On behalf of VMU, Dr.Pham Xuan Duong– Vice President and leaders of the International Relations Department, Training Department, Faculty of Marine Engineering, Post Education Institute attended the ceremony. Representative of BSMRMU is Rear Admiral A S M Abdul Baten, BSP, ndc, psc, Vice-Chancellor, BSMRMU with the university's leaders.
The university would conduct both graduate and post- graduate courses on various fields, which includes subjects related to Safe Operation, Handling and Management of Ships, Port and Shipping Administration, Maritime Technology, Naval Architecture, Oceanography, Marine Science, Hydrography, Ocean Engineering, Offshore Engineering, Coastal Engineering, Maritime Laws, Maritime Security and Strategic studies, Business Studies, Information and Computer technology, Environmental Science etc. The university will have the dual role of running higher level courses for students, as well as regulating the affiliated institutions for their graduate/post graduate programmes. Presently endeavours are being made to open courses by the next academic session at hired campuses on subjects related to Port/Shipping Management, Logistics/Engineering Management. Upon having a permanent campus, new graduate and post- graduate programmes on specialized fields will be offered.
On behalf of the delegation, Rear Admiral A S M Abdul Baten, BSP, ndc, psc, Vice-Chancellor, BSMRMU thanked for respectfully welcome by the university and hoped to strengthen collaborative relationships in the comingtime.