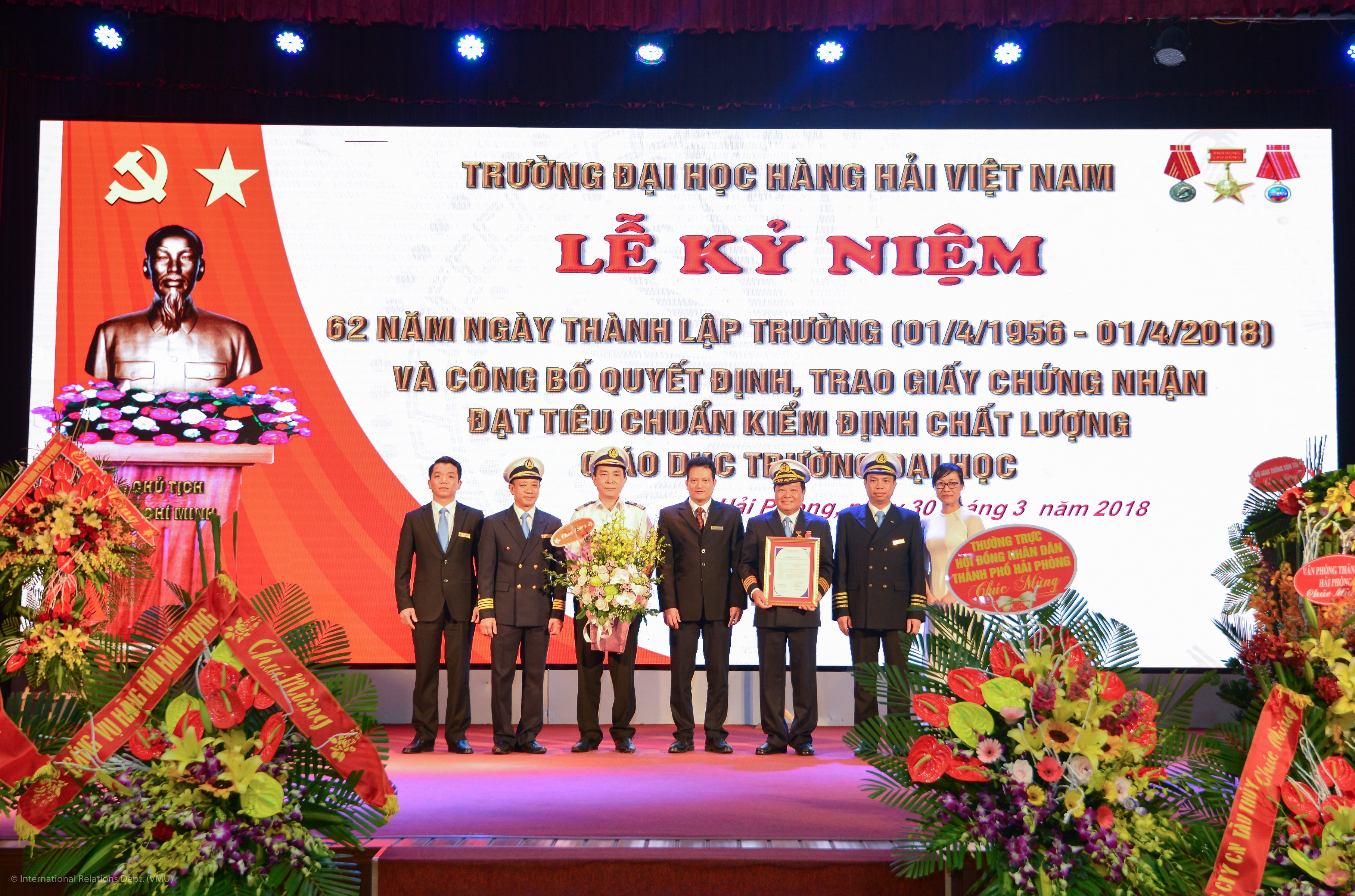 At 4 pm on March 30th, Vietnam Maritime University celebrated its 62nd anniversary (April 1, 1956- April 1, 2018) and announced the decision to adward the accreditation certificate of higher education quality and also the decision to recognize the title of Associate professor for 6 cadres and lecturers.
After 62 years, Prof., Dr. Luong Cong Nho - Secretary of the Party Committee, Rector of VMU has pondered the glorious history of making the today's great VMU. Lecturers and students of Vietnam Maritime University has followed the senior generation to develeop and become worthy of being a leading unit training personnel, high quality human resources for the national sea strategy and Economic development of the city and nation. Its goal is to become a national key university and human resource training center for ASEAN and Asia in 2025.
On this great event, Vietnam Maritime University is honored by Ministry of Education and Training to be adwarded the accreditation certificate of higher education quality and VMU also has reached the top 15 universities in Vietnam among the system of over 300 universities and national institutes, six teachers of VMU were awarded the title of Associate Professor, including teachers: Le Quoc Tien, Pham Xuan Duong, Nguyen Minh Duc, Tran Van Luong, Do Thi Mai Thom, Dinh Anh Tuan.
Recognizing the achievements of teachers and students of Vietnam Maritime University in the past 62 years concerning the route for developing high quality human resources and developing the marine economy of the whole country, Vice Minister of Transport Nguyen Van Cong recommended that in the coming time, VMU would continue to make efforts to renovate teaching activities, invest in material facilities, take care of lecturers well and raise the quality of students' output to meet the requirements of the 4.0 revolution, meet the education reform agenda, fulfill the goal of becoming a key university not only of national but also of regional and international.